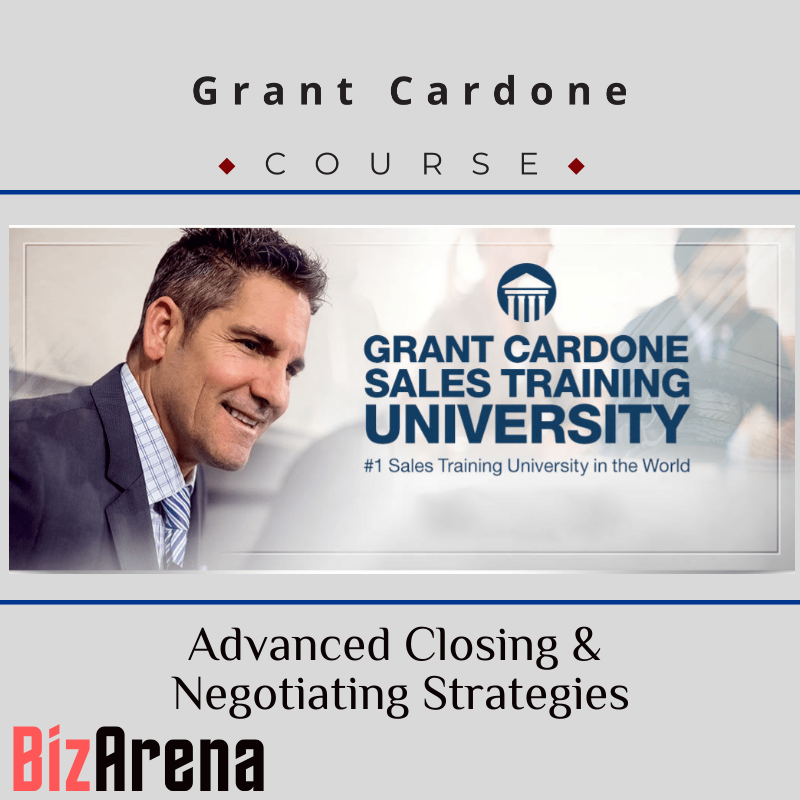  
Grant Cardone - Advanced Closing & Negotiating Strategies
Contact Email: sales@bizarena.org

Product Delivery: Downloadable Link will be sent to your email.

Return policy: Full Refund only If you haven't receive the full course.
Most salespeople fail in the close because they simply do not have the words to say to handle buyer objections. The lack
of understanding in this area will inevitably cause an untrained salesperson to lose a customer, and at best use a discount
as a way to entice a buyer decision. Only 10-20% of the time you are in a transaction is spent in the close, yet it is where
100% of your income as a salesperson comes from. Bottom line, if you want to learn how to increase your income as a
salesperson, you must learn to master the close.
The Closing Strategies course gives exact word tracks on how to handle sales objections. Sales training word tracks are
given for objections such as "I need to think about it", "The price is too high", "I need to talk to my spouse/manager/
supervisor/owner/Director". Nothing will cause a salesperson to lose their confidence faster than not being able to
handle the same problems over and over again and the Closing Strategies course will equip your team with confidence-
boosting rebuttals guaranteed to increase production!
What You'll Get:
When you enroll today, you'll receive instant access to:
Cardone University Advanced Closing & Negotiating Strategies Program
2 Core Modules
245 Video Courses
Plus, upon successful completion of the program you will also receive:
A badge that can be hosted on your website, email signature and LinkedIn profile
A digital, printable certificate of completion for framing
Status and recognition for completing a Cardone University program
What You'll Learn:
Over 120 Rebuttals
Situational Breakdown of negotiations
17 Stall KILLERS
Advanced Closes
Modules Included:
◄Money Closes 1-10
• Payment Close
• Payments To Figures Close
• Rate Close
• Agreement Close I
• Agreement Close II
• Agreement Close III
• Won't Be The Last Time Close
• Be Grateful Close
• Congratulations Close
• Do It Anyway Close
• Watch All Of These Closes Back-To-Back
◄Money Closes 11-20
• Disease Close
• Inventory Close – Move down a model
• Inventory Close – Move up a model
• Selection Alternative Close
• Package Alternative
• Payment Breakdown Close
• Budget Close I
• Budget Close II
• Budget Close III
• Budget Close IV
• Watch All Of These Closes Back-To-Back
◄Money Closes 21-30
• Budget Close V
• Assume Zero Balance Close
• Down To The Penny Close
• Reduce To Ridiculous Close
• Better to Live Rich Close
• Can't Take It With You Close
• No Shortage of Money Close
• Justify Close
• Money Equal Close
• Treat Yourself Close
• Watch All Of These Closes Back-To-Back
◄Money Closes 31-45
• Work Hard to Earn This Close
• You Deserve It Close
• Discount Close
• No Equity Close
• Same Product Close (Yours)
• Same Product Close (Theirs)
• Now and Later Close I
• You Knew That Before Close
• Gratitude Close
• Who Taught You That Close
• Watch All Of These Closes Back-To-Back
• Able Close
• Commission Close
• Leave It Up To The Bank Close
• Quality Close
• Price Guarantee Close
◄Time Closes
• Do It Anyway Close
• Watch All Of These Closes Back-To-Back
• Important Person Close
• Flush The Objection Close
• Want To Be First or Last Close
• Sooner or Later Close
• Get It Done And Over Close
• Never The Best Time Close
• Future Date Close
• Now or Never Close
• Get More Done Close
◄Stall Closes
• Watch All Of These Closes Back-To-Back
• Spouse Stall Close I
• Spouse Stall Close II
• Spouse Stall Close III
• Spouse Stall Close IV
• Unavailable Party Close
• Unavailable Party Close II
◄Product Closes
• Watch All Of These Closes Back-To-Back
• Quality Close
• Price Guarantee Close
• Delivery Close
• Check Close
• Scale From One-To-Ten Close
• Equipment Close
• Title/Registration Close
• Paperwork Close
• Insurance Close
• No Other Reason Close
• Momentum Close
• Re-Present/Re-Demo Close
• Everything The Same Close
• Summary Close
• Comparison Investment Close
◄Advanced Closes
• Do It Anyway Close
• Watch All Of These Closes Back-To-Back
• Second Party Assist Close
• Second Baseman Close I
• Second Baseman Close II
• Do It For Me Close
• Payoff Close
• Delay Payment Close
• No Cosigner Close
• Feel-Felt-Found Close
• Handshake Close
◄Classic Closes
• Do It Anyway Close
• Watch All Of These Closes Back-To-Back
• Three Yes's And Then Close
• Referral Close
• If I Could, Would You Close
• Eleventh Inning Close
• Ben Franklin Close
• Scarcity Close
• Puppy Dog Close
• Feel-Felt-Found Close
• Handshake CloseSales Page: https://anon.to/QE6Njo
16 other products in the same category: