Are you feeling overwhelmed?
Let us help you discover courses that align with your goals, curated just for you.
NO A.I. INVOLVED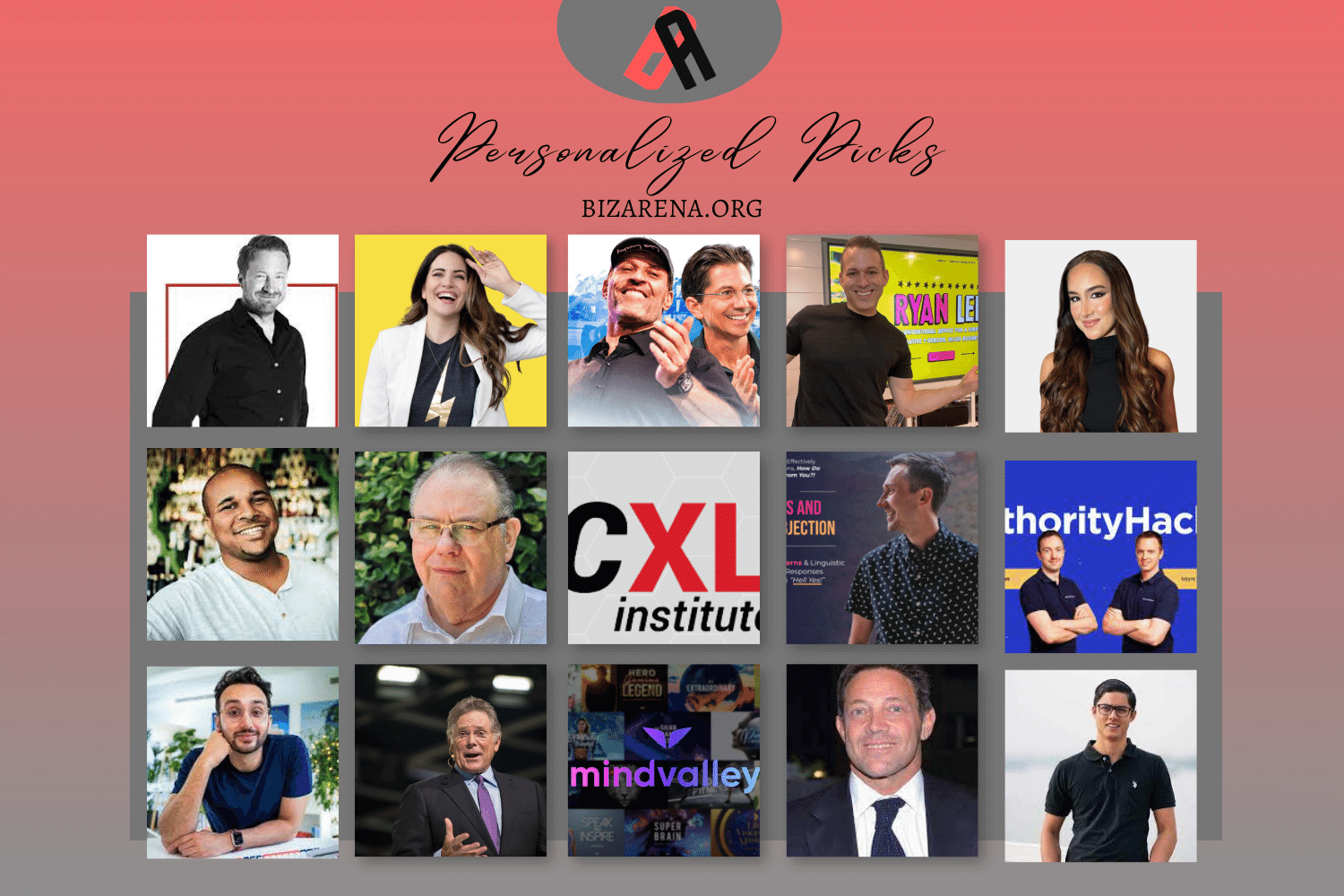 Why Recommendations Matter
In the vast ocean of knowledge, finding the right course can sometimes feel like searching for a needle in a haystack. At BizArena, we understand the challenge. With a repository of over 2000 courses spanning diverse niches, categories, and subcategories, the sheer volume can be both a boon and a bane.
Personalized Learning: Every learner is unique, and so should their learning path. Our recommendations are tailored to ensure that you don't just learn, but thrive. Dive into courses that resonate with your aspirations and align with your goals. Don't get lost in the crowd; let's make your learning journey truly personalized.
Time Efficiency: Time is of the essence. Why spend hours, or even days, sifting through countless courses when you can get straight to what matters? Our recommendations cut through the noise, bringing you courses that are relevant, timely, and aligned with today's market demands. Discover popular courses without the endless search.
Better Outcomes: It's not just about learning; it's about achieving tangible outcomes. Tailored recommendations mean you're more likely to find courses that lead to success, be it in your career, business, or personal growth. With the right guidance, you're not just learning; you're transforming.
Feeling overwhelmed is natural, but with BizArena's expert recommendations, you're never alone in your quest for knowledge. Embrace the power of personalized learning and explore our curated collections. Let's turn that overwhelm into actionable insights and success stories.
How It Works
1

Tell Us About Yourself

Begin by completing a concise 30-second form. This step is crucial as it helps us:
Understand your needs
Gauge your expertise
Pinpoint the niche or subcategory you're keen on
The more specific you are, the better we can tailor our recommendations.
2

Our Expert Curation

Once we receive your details, our team dives deep into our vast course repository. Leveraging our expertise, we:
Handpick courses that align perfectly with your input
Ensure each recommendation is thoughtfully curated just for you
This isn't an automated process; it's a human touch.
3

Receive Your Recommendations

After our thorough analysis, we'll reach out to you via email. You'll:
Receive a list of courses tailored for you
Get insights on the best fit for your aspirations and goals
If we need more clarity or information, we'll let you know, ensuring that our recommendations are spot-on.
Our process is straightforward yet meticulous, ensuring that every learner finds their perfect match in the vast world of courses. Let's embark on this journey together.
The Benefits of our Recommendations
Quality Assurance: Dive into a world where quality isn't compromised. Every course on BizArena undergoes rigorous vetting, ensuring you get nothing but the best. Elevate your learning with top-tier content.
Diverse Range: Whether you're a budding entrepreneur, a digital marketing enthusiast, or someone looking to master a new skill, our vast range caters to all. Explore a diverse array of topics and fields, tailored to meet varied aspirations.
Affordability: Quality education shouldn't come with a hefty price tag. With BizArena, you get access to premier courses without burning a hole in your pocket. Experience top-tier learning, all while staying within your budget.
Continuous Updates: The world of online education is ever-evolving. As new courses grace our platform, our recommendations adapt, ensuring you're always in sync with the latest and the greatest.
With BizArena, you're not just enrolling for a course; you're embarking on a transformative journey, curated just for you.
Frequently Asked Questions
How are courses recommended?

Our recommendations are based on a combination of your provided preferences, our team's expertise, and the latest trends in the industry. After you fill out our brief form, our experts sift through our vast course repository to find matches that align with your goals and interests. It's a blend of human touch and data-driven insights.

How often can I get new recommendations?

You can request new recommendations anytime you feel the need to explore fresh content or when your learning goals evolve. However, as our course library is continuously updated, we recommend checking back every few months to discover new and relevant courses.

Can I change my preferences later on?

Absolutely! We understand that learning objectives can change over time. Whenever you want to explore a new field or dive deeper into a specific niche, simply update your preferences, and we'll curate a new set of recommendations tailored for you.
Ready to Dive into Tailored Learning?
Start your personalized learning journey today.