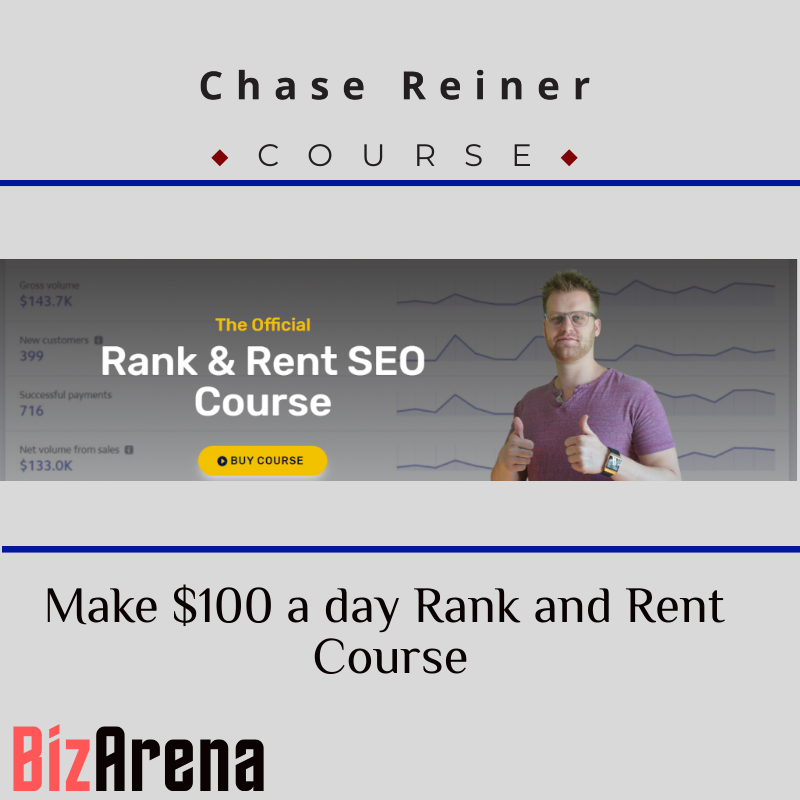  
Chase Reiner - Make $100 a day Rank and Rent
Why is a rank and rent SEO course something you cannot afford to be without? No
matter what your business is, what your hope for the future is, or what you are
doing right now – every one of us wants financial security. You want to not have to
constantly be changing your business model to meet the goals of the current
Google methods. You want to be able to take a few days – or even weeks off – and
still have money coming in. Is that possible?
Contact Email: sales@bizarena.org

Product Delivery: Downloadable Link will be sent to your email.

Return policy: Full Refund only If you haven't receive the full course.
In our rank and rent SEO course, we are going to teach you exactly what you need to know to thrive in this method. We'll talk about what rank and rent
means, and why so many people are moving into this model when it comes to lead generation.
I'll be clear with you. No matter how big or small your business is – or how large your marketing budget is – you need to have a proven strategy in place to reliably get leads coming into your team. If you lack this – using
internet-based methods, you are going to find your business is struggling. Even if you have good word of mouth – even if you have a strong existing customer
base – not doing this now is going to cost you.
1- How to create well-ranked SEO websites. These are high-performing sites that create leads.
2- How to choose a niche for your websites (remember, there are many local business models that can benefit from these websites and you can tap into all of them!)
3- How to monetize your websites and create steady, passive income from them. There are several ways we'll teach you to do this.
4- Learn link building strategies that build up your website's rank in Google.
5- Local SEO keyword research that attracts Google searchers to your website.
6- Picking a domain name that in itself will help to attract customers to your website.
7- Learn on-page SEO recommendations that make the difference for website success.
8- Implement Google Maps and Bing Verification.
9- Learn about and implement Google My Business.
10- Building out the site to make it user friendly to turn website visitors into buyers!
16 other products in the same category: