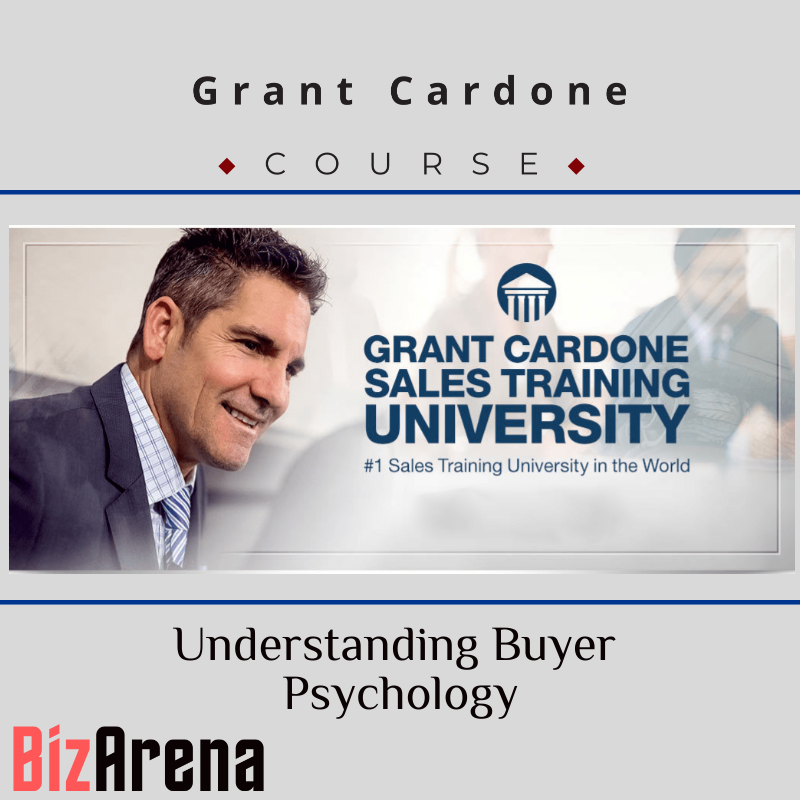  
Grant Cardone - Understanding Buyer Psychology
Contact Email: sales@bizarena.org

Product Delivery: Downloadable Link will be sent to your email.

Return policy: Full Refund only If you haven't receive the full course.
Understanding the buyer is one of the most requested online sales training courses from Grant Cardone. Better
understanding your customer and how to effectively guide them through the sales process can be one of the most
challenging tasks in selling. While the sales process itself should remain the same with every customer, almost every
single customer is different. How then can you ensure that you are successful every customer, not just the easy ones?
How do you handle difficult customer? What about how to handle a customer asking for a discount?
These questions and more are the focus of this course. The material covers the most important rules in selling and also
covers the 1 thing that every customer will pay more money for in a deal, and it is not what you think! From handling a
customer and their concerns with money to understanding the REAL reason people actually buy anything understanding
the buyer is vital to your success in selling.
What You'll Get:
When you enroll today, you'll receive instant access to:
Cardone University Understanding Buyer Psychology Program
5 Core Modules
30 Video Courses
Plus, upon successful completion of the program you will also receive:
A badge that can be hosted on your website, email signature and LinkedIn profile
A digital, printable certificate of completion for framing
Status and recognition for completing a Cardone University program
What You'll Learn:
Learn the #1 Rule in Selling
NEVER lose a deal over price
How to instantly build credibility
Develop the Power to Predict
Modules Included:
◄The Magic of Agreement
• The First Rule of Selling
• The Agreement Challange
• The Agreement Drill
• Trust is Critical to the Sale
• Customers Don't Make Sales, Salespeople Do
• Credibility = Increased Sales
• People Believe What They See, Not What They Hear
• Use Third-Party Data to Validate
• Tips on Using Information to Build Trust
◄Attitude
• A Great Attitude is Worth More Than a Great Product
• Treat Them Like Millionaires
• Daily Attitude
• A Product of Your Environment
• Tips to Have a Great Attitude
◄Give, Give, Give
• The Magic of Giving, Give, Give
• Love The One You're With
• Level of Service
• Make Service Senior to Selling
• The Hard Sell
• Closing is Like a Recipe
◄Your Buyer's Money
• It's Almost Never Price
• Love, Solve Problems, and Confidence
• More on Price
• Handling "Other" Concerns Handles Price
• Justifying Price with Other Inventory
• Salespeople Stop Sales, Customers Don't
• No Shortage of Money
• The People Business, Not the "X" Business
• The Most Interesting Person in the World
• Production Yields Happiness
• The 10x Rule
• Work Your Power Base
• How to Build Your Power Base
• Impose on Them or Help Them?
• Capitalize on the Easy Sale
Sales Page: https://anon.to/s4dQTu
16 other products in the same category: