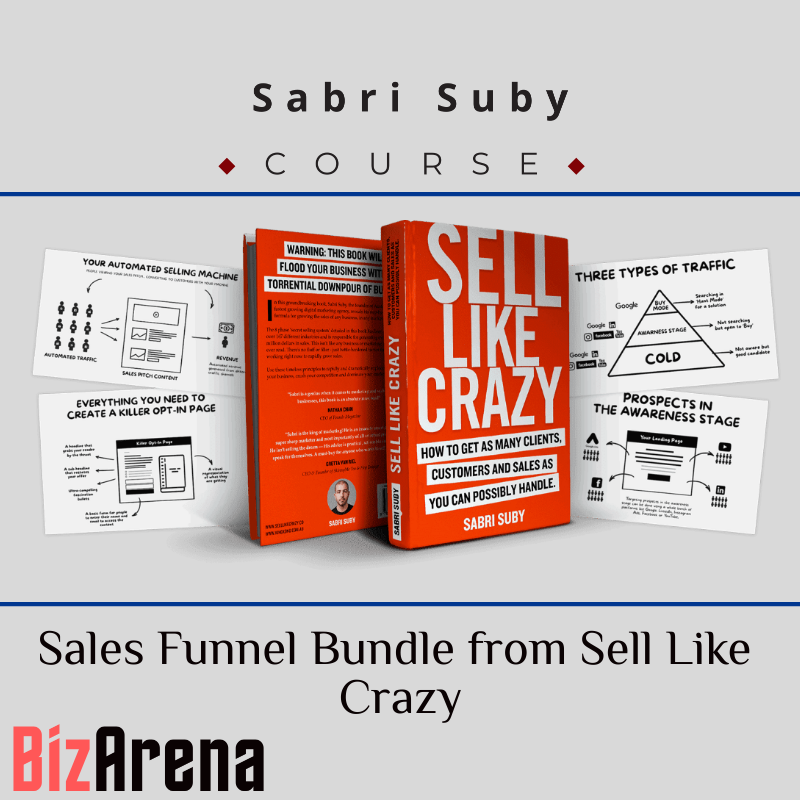  
Sabri Suby - Sales Funnel Bundle from Sell Like Crazy
Contact Email: sales@bizarena.org

Product Delivery: Downloadable Link will be sent to your email.

Return policy: Full Refund only If you haven't receive the full course.
Dear Business Owner,
If you want to create a torrential downpour of buyers that flood your business and literally DEMAND that you sell them your products and services, this will be the most important book you'll ever read.
Here is why: My name is Sabri Suby and five short years ago I was dead broke. I had just started my business from my bedroom – with no more than $50 and an old computer that my girlfriend had bought me. 
I was desperately searching for clients and practically "begging" people just to speak with me. I would wake up early every morning  and make 150 cold-calls per day, mostly to people that would simply yell abuse to me and then hang up.
I did this six days per week for months on end. Grinding it out and "hustling".
Then, one day, I came up with a "crazy idea". That allowed me to take my sales pitch and 'automate' it. 
So instead of calling on 150 businesses per day… I could write a sales message that would call on…
150,000 PEOPLE PER DAY! 
Everyone thought I was a fool, and that there was no way this could possibly work...an old friend even called me a "dreamer". But I didn't listen to them, because I had nothing to lose and everything to gain.
After a lot of late nights, early mornings and a tonne of trial and error…I finally discovered a 'secret selling system'. 
And everything changed for me.
I used this "selling system" to quickly catapult me into building the #1 fastest growing digital marketing agency in Australia (3 years in a row) and 17th fastest growing company in the country (across all industries), as ranked by the Australian Financial Review in 5 years flat!...
But it's not just me!
Sales Page: https://anon.to/6ZqqFy
14 other products in the same category:
Customers who bought this product also bought: