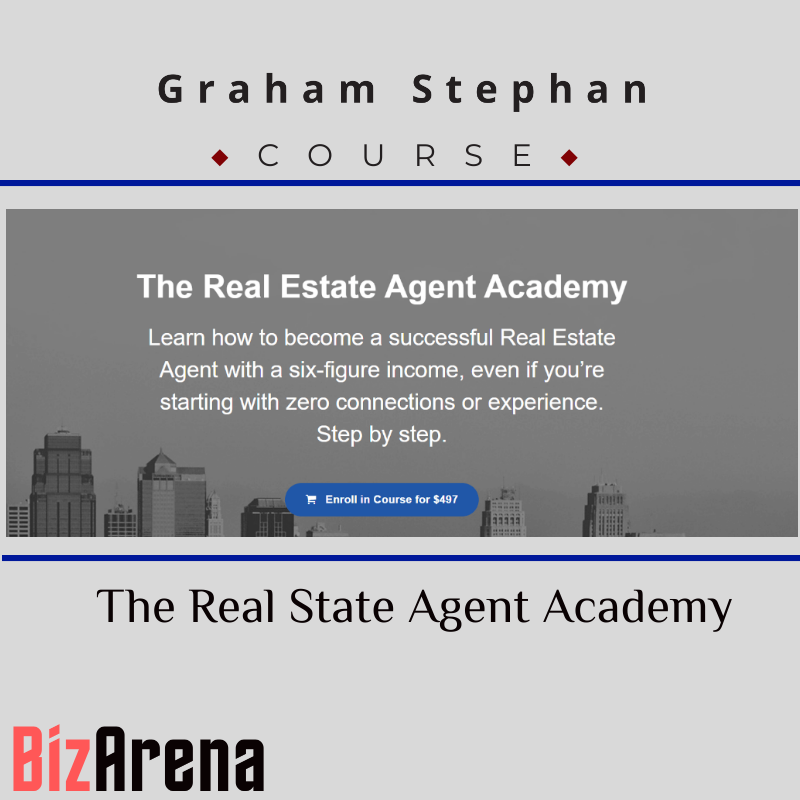  
Graham Stephan – The Real State Agent Academy
Learn how to become a successful Real Estate Agent with a six-figure income, even if you're starting with zero connections or experience.
Step by step.
In less than 10 years, I've gone from an 18-year old kid – fresh out of high school
with ZERO college degree
ZERO connections – and ZERO real estate experience
became a millionaire by the age of 26, with over $120,000,000 in sales as a Real Estate Agent by the age of 27.
Contact Email: sales@bizarena.org

Product Delivery: Downloadable Link will be sent to your email.

Return policy: Full Refund only If you haven't receive the full course.
You'll learn:
1. Why the #1 Happiest Job in America is working as a Real Estate Agent (Forbes)
2. How to find and interview the best brokerage to work with
3. How you can find a mentor to help boost your success
4. How to get seller leads – even without any experience or contacts
5. How to get buyers leads – even if you're brand new to the business
6. How I make $100,000 per year posting ads on Craigslist
7. Going over the ideal listing presentation
8. Common seller and buyer objections you'll need to overcome – and what to say
9. How to build your business just by doing open houses
10. Nearly 100 other topics..
Introduction to the course (4:38)
About me (19:06)
Disclaimer – use this course to develop your own style (2:00)
Why am I giving out this information? What happens when everyone knows about it? (2:12)
Step 1: Why Real Estate and who can become a Real Estate Agent?
Why choose Real Estate Sales? (5:28)
Why you SHOULDN'T choose Real Estate Sales? (6:41)
What does a Real Estate Agent do all day? (5:05)
Who can be a Real Estate Agent? (5:27)
The Risks of being a Real Estate Agent (4:47)
Should you move to a different market to sell real estate? (2:15)
Why mindset is EXTREMELY important (5:44)
Step 2: Getting you Real Estate License
Requirements to get your real estate license (2:03)
Should you take your license online or in person? (1:47)
Does it matter which real estate school you go to? (1:57)
Studying for the real estate exam and passing (3:14)
Can you sell real estate part time? (6:24)
Do you need a college degree to be successful? (2:44)
The advantages of being a young real estate agent with no experience (3:42)
This is why some people discourage you to sell Real Estate (4:43)
Step 3: How to join a real estate brokerage
A note about finding a mentor (4:17)
Why is a real estate brokerage important? (1:38)
Differences between an real estate agent and a broker (1:02)
How to find a real estate brokerage to work for (3:05)
How to interview a real estate brokerage (7:13)
The costs of joining a real estate brokerage (3:17)
What's a good commission split? (3:06)
Step 4: How to start your career
Should you work as an assistant? And how can you get that job? (2:52)
Should you work solo or in a team? (5:06)
How to prepare for your career (1:49)
What you will need to begin your career (5:53)
Does the type of car you drive matter? (3:01)
How should you dress? (2:52)
How to break into the luxury market (2:25)
Why more expensive homes are often easier to sell (6:27)
Budgeting for your career (1:54)
Step 5: Getting leads and business
Introduction to getting business and leads (2:51)
Should you work with buyers or sellers? (1:07)
What to do the first 3 months to jumpstart your career (4:48)
Watch this if you ever think you have nothing to do (keep watching this video every week) (3:16)
What-to-do when first starting (checklist) (2:33)
How to get leads in Real Estate (9:33)
How to sit an open house (4:14)
Preparing for an open house (3:14)
The ultimate open house guide (9:16)
What to say during an open house (8:34)
Cold Calling 101 (2:37)
Door Knocking 101 (5:02)
Floor Calls 101 (2:59)
Prospecting your farm area 101 (3:47)
Getting Expired Listings (6:56)
Why follow up is ESSENTIAL (2:29)
Everything about advertising on Craigslist – Part 1 (11:36)
Everything about advertising on Craigslist = Part 2 (10:27)
How to comp a property to find its value (16:16)
A note about Mailers (0:53)
Why you need to follow up (1:54)
Buying Zillow Leads (3:48)
Picking up business Open House Signs – and Open House Theft (3:58)
A unique way of getting leads: How to target homes under construction (3:06)
Part 6: Working with sellers
Introduction to listings (2:51)
Beginning the listing appointment (6:40)
The best way to price a listing (7:47)
Seller upgrades prior to listing (3:30)
Seller marketing (6:33)
The Top 7 Seller Objections (9:48)
Launching a listing (11:29)
The best ways to show your listing (8:06)
How to field offers to get the highest price (4:15)
Negotiation Techniques I use (6:00)
What to do if you don't get any activity or offers (5:52)
The pitfalls of a Daul Agency (representing both buyer and seller) (2:10)
How to handle inspections (5:08)
Pocket Listings 101 (3:07)
What about Zestimates and automated values? (1:14)
Part 7: Working with Buyers
Working with Buyers 101 (7:21)
Picking which homes to show and scheduling appointments (3:16)
My buyer negotiation strategies – part 1 (11:06)
My buyer negotiation strategies – part 2 (5:51)
How I negotiate and win multiple counter offers for your buyer (6:00)
Escrow, Contingencies, and Title 101 (8:16)
Navigating the buyer's loan process (7:39)
Buyer's objections and red flags – part 1 (7:56)
Buyer's objections and red flags – part 2 (5:58)
Spotting a "fake" buyer (5:54)
Part 8: Working with lease clients
Why work with tenants and leases (2:51)
How to get lease clients (2:08)
How much commission to take? Who should you work with? (3:43)
Why follow up is essential – especially with leases (1:21)
What to do when your clients run late (5:13)
Lease negotiation strategies when representing a tenant (7:18)
Lease negotiation strategies when representing a landlord (6:43)
Part 9: Tax Planning and final thoughts
A note about tax planning (3:05)
What about taking a vacation? (2:09)
The future of the real estate agent? (2:16)
Why you need to save! (1:45)
Final thoughts (3:25)
Thank you for watching! (1:28)
Sales Page:  https://anon.to/YL7LIk
2 other products in the same category:
Customers who bought this product also bought: