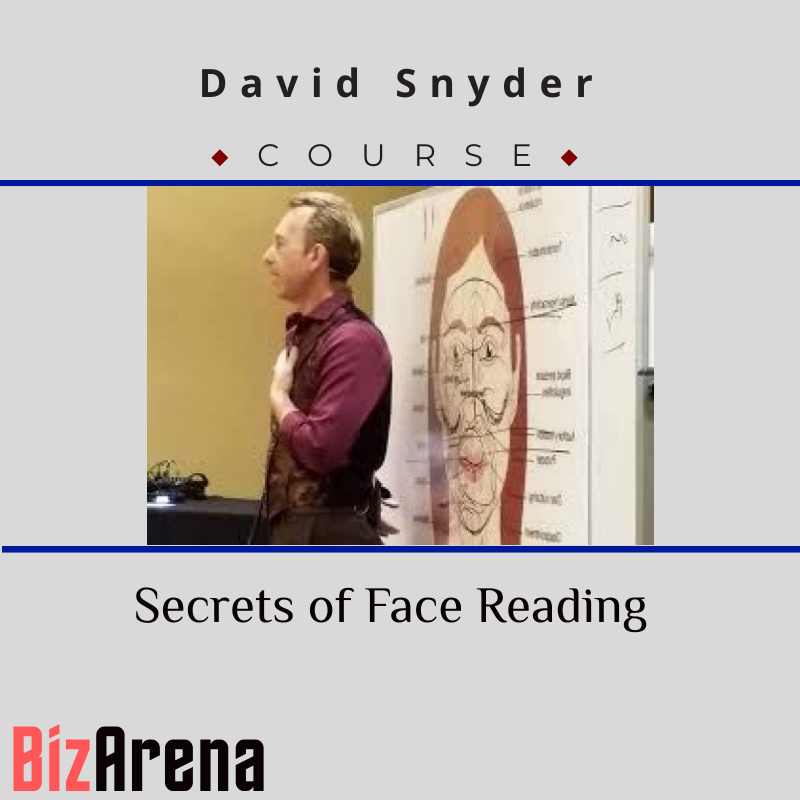  
David Snyder - Secrets of Face Reading
What if you could Read People
Instantly Just By Looking at Their Face...
Contact Email: sales@bizarena.org

Product Delivery: Downloadable Link will be sent to your email.

Return policy: Full Refund only If you haven't receive the full course.
How They Think Feel And Behave
Their Current State of Physical and Emotional Health
What Ages Their Most Significant Traumas Occurred
Which Traumas or Types of Trauma They've Actually Repressed or Forgotten about
Their Relationships with Their Parents and Siblings
What if Could Actually Read Repressed Emotions on Your Clients Face and Automatically Unlock Them and Resolve Them In Minutes!
Know How They Make Decisions!
How Romantically Compatible With Their Partners They Are
If Any Of The Above Sounds Intriguing, Keep Reading Because It Absolutely Gets Better!
What if YOU Could Also ...
Discover The Hidden Wisdom, Talents and Secret Abilities You Didn't Know You Had
Find Your Life Purpose and Become More Fully On Your Path To Fulfillment Than Ever Before
What if everything you needed to know to discover learn and unlock your own inner wisdom, power and abilities were actually hidden in the features of your face.
Sales Page:  https://anon.to/BpIxHh
5 other products in the same category:
Customers who bought this product also bought: