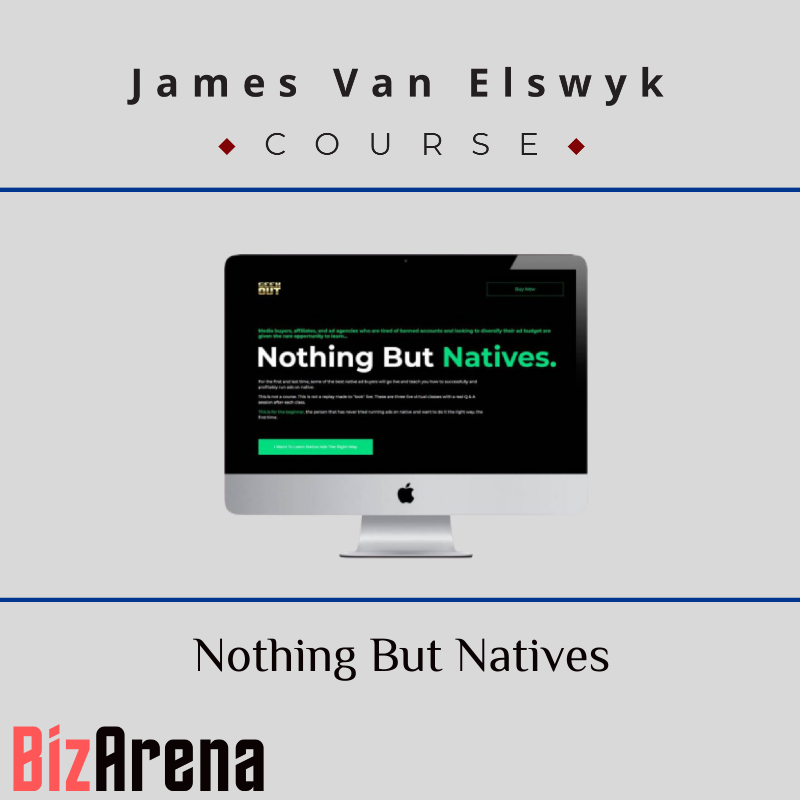  
James Van Elswyk - Nothing But Natives
James Van Elswyk
I'm the founder of Purple Leads, Purple Ad Lab, and Geek Out Education.
Media buyers, affiliates, and ad agencies who are tired of banned accounts and looking to diversify their ad budget are given the rare opportunity to learn…
Nothing But Natives.
For the first and last time, some of the best native ad buyers will go live and teach you how to successfully and profitably run ads on native
Contact Email: sales@bizarena.org

Product Delivery: Downloadable Link will be sent to your email.

Return policy: Full Refund only If you haven't receive the full course.
What You'll Take Away From The Training
How To Properly Structure, Build, and Launch A Native Campaigning
How To Optimize, Fine Tune, and Scale A Live Campaigning
The Importance of Diversifying Your Portfolioicon
How To Structure Your Native Funnel To Monetize Every Click icon
How To Interpret The Data To Make The Right Decisionsicon
What's Working Right Now In The Native Spaceicon
How To A/B Test Everything Through The Funnel
Plus So Much More, Including:
The types of ads that work for native
The types of products that convert really well, and what offers tank (knowing this is half the battle when it comes to running your offers profitably)
How to create and place the pixel
What types of headlines work. This is where we dig into the levels of awareness and how to get your offer converting on cold traffic.
The strategy I use to find the sweet spot bids
The strategy I use to find the sweet spot bids
How to organize and structure campaigns so you don't lose your mind and make bad decisions
How to set up tests to find winners fast, without losing money
How to use a tracker without it being an all-day pain in the ass
And much, much more!
Testimonial:
"I've known James personally for years. He is a complete package when it comes to direct response marketing. He's a world-class as a media buyer, educator, affiliate, agency owner, and network owner. With a focus on native ads, page building, ad creation, hiring, and training media buying teams, James is hands down one of the best guys out there actually doing the work. I've personally worked with James on multiple campaigns. He's a rockstar and a great friend."
– Tim Burd
Sales Page: https://anon.to/e6ZvTw
2 other products in the same category:
Customers who bought this product also bought: