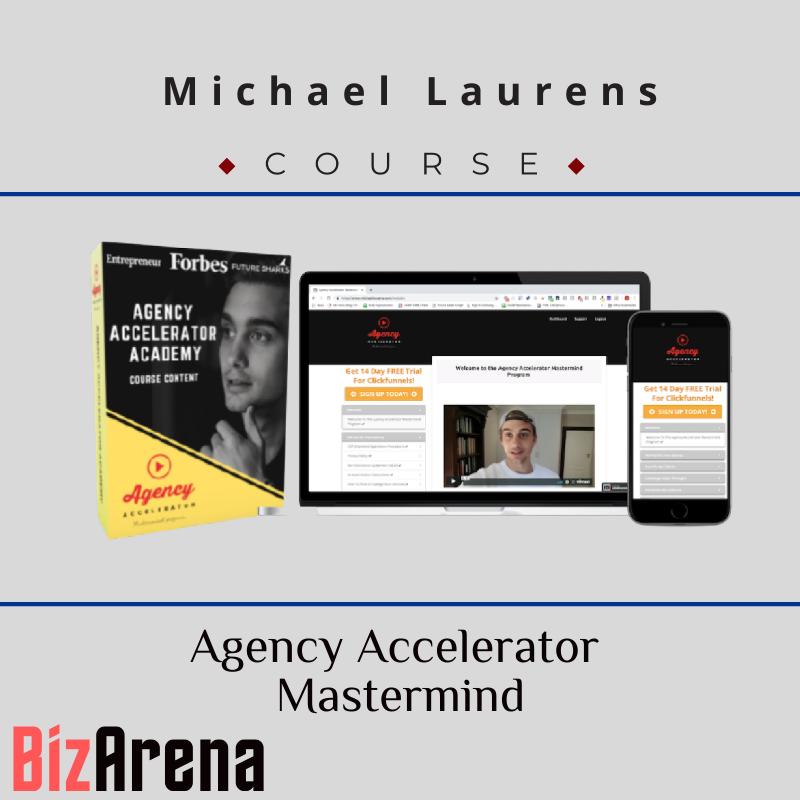  
Michael Laurens - Agency Accelerator Mastermind
Contact Email: sales@bizarena.org

Product Delivery: Downloadable Link will be sent to your email.

Return policy: Full Refund only If you haven't receive the full course.
Inside The Course Content Area...
[Week 1] - Setting Up Your Agency
Get everything you need to run your agency from scratch. Including scripts, presentations, proposals, invoices, billing methods, standard procedures of operations, contracts and all of the softwares that I use...
[Week 2] - Client Acquisition made Easy
Plug & Play strategies guaranteed to land you high-ticket clients without ever taking a face-to-face meeting! Copy and paste the outreach and sales scripts and use my funnels to land meetings & close clients on automate! 
Don't like sales? You'l be connected with high-ticket phone closers that only get paid if they close! 
[Week 3] - Facebook Ads Mastery
If you're unsure how to structure campaigns that deliver massive results for your clients, we included step-by-step instructions so you can generate leads in any niche!
[Week 4] - Chat Bots & Clickfunnels
Grab my messenger bot & funnel templates that you can plug-and-play to generate results for your clients, as well as step-by-step instructions on everything you need to know to build funnels and bots of your own!
[Week 5] - Lead Nurturing & Email Marketing
If you're worried about going after high-ticket clients that you can charge $10k+ per month, learn what separates high-ticket packages with my email marketing formulas, funnels and campaign scripts that convert and increase campaign ROI
[Week 6] - Scaling to $100k per month made simple
Ready to go to the next level? Learn how to scale a sales and fulfilment team and create an autonomous profit machine that is ready to scale with my step-by-step scaling checklists.
You will also be getting job description templates and my 5-Step growth process so that you know exactly how to start hiring from your first client! 
[BONUS Module] - Campaign Walkthroughs
Could it be any simpler? Glad you asked...
You'll be getting 15 x plug & play campaign walkthroughs, fully laid out with ad copy and screenshots, funnels and ad targeting.
Including Gyms, Restaurants, Car Dealerships, Real Estate, Chiropractors, Dentists and many more so you're able to deliver massive value for any local business client you grab in week 2!
[Personalised Mentorship] - Learn from me directly as well as other program graduates
Have a question? Get it answered immediately in a Private Facebook Group. Get ready to learn from other program graduates and growth hack your network! 
Sales Page: https://anon.to/rj8Y2r
13 other products in the same category: