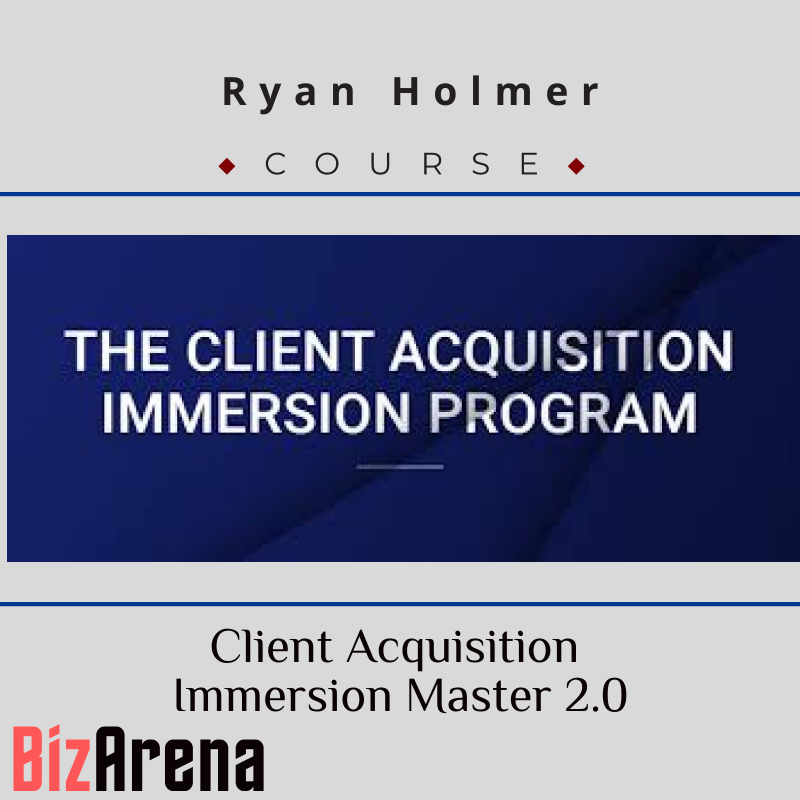  
Ryan Holmer - Client Acquisition Immersion Master 2.0
Contact Email: sales@bizarena.org

Product Delivery: Downloadable Link will be sent to your email.

Return policy: Full Refund only If you haven't receive the full course.
THE IMMERSION PROGRAM RUBRIC
Week #1 - Foundations
In Week #1 our goal is to introduce you to our overall strategy for the client acquisition. This includes choosing a profitable Niche, crafting a persuasive Offer, and creating Messaging which will resonate with your market. 
Week #2 - Creating Your LinkedIn Funnel
During Week #2, we're going to deep-dive into our exact organic funnel, and how you can optimize your online profile to draw in potential high-value clients. 
Week #3 - Organic Lead Gen Mastery
Week #3 is all about organic lead generation mastery. During this week, we're going to show you how to craft highly resonating content, how to connect with more of your ideal clients, thus increasing the sizeof your network. You're also going to discover how to follow-up with prospects so that they stay warm, and how to automate this process. 
Week #4 - Sales Mastery
This week is all about mastering the sales process, so that you become a closing machine. After this week, you'll understand what goes into an effective sales call, and you'll be able to close high-paying clients on the phone. 
Week #5 - Scaling
During Week #5, you're going to discover how to take your business to the next level, through our proven scaling strategies. 
Sales Page: https://anon.to/UHIhxM
16 other products in the same category: