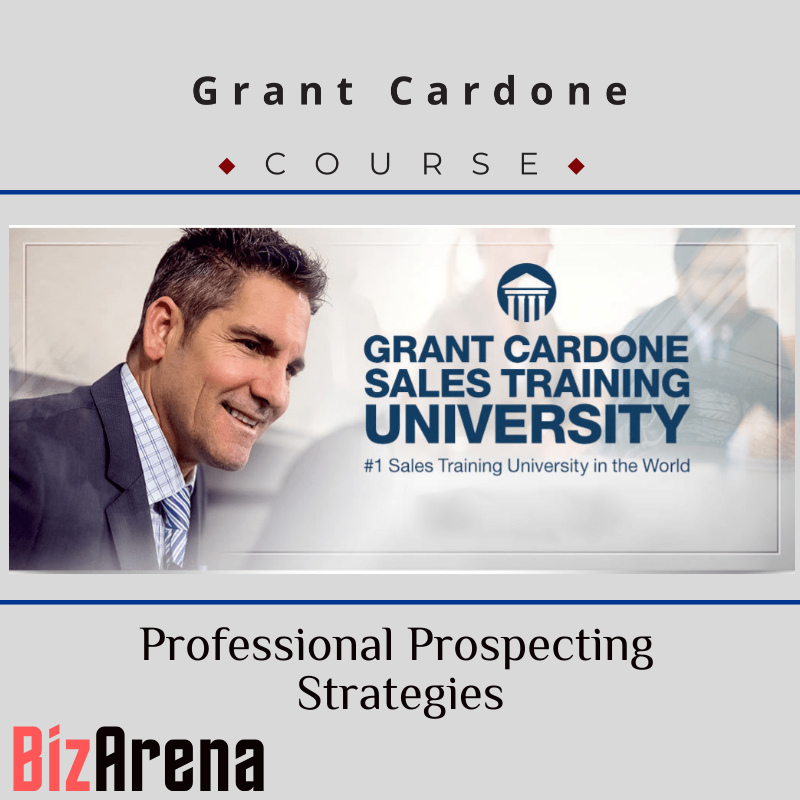  
Grant Cardone - Professional Prospecting Strategies
Contact Email: sales@bizarena.org

Product Delivery: Downloadable Link will be sent to your email.

Return policy: Full Refund only If you haven't receive the full course.
Sales Prospecting is one of the most difficult and subsequently most valuable skills salespeople can possess. A salesperson who has mastered prospecting can single-handedly pull a business out of obscurity and begin to increase sales.
The Sales Prospecting Course will help salespeople identify and cultivate their most sales-ready opportunities which will result in a lower client acquisition cost, and higher sales profitability. The ability to create and increase sales opportunities without the help of advertising and marketing is the most impactful cost-saving activity you can have within your business.
What You'll Get:
When you enroll today, you'll receive instant access to:
Cardone University Professional Prospecting Strategies Program
5 Core Modules
30 Video Courses
Plus, upon successful completion of the program you will also receive:
A badge that can be hosted on your website, email signature and LinkedIn profile
A digital, printable certificate of completion for framing
Status and recognition for completing a Cardone University program
Modules Included:
◄Prospecting Basics
• Prospecting Basics
• Purpose of Prospecting
• What is it?
• Why is Prospecting Important?
• How to Fill Up Your Pipeline So That You are Affluent with Prospects
• How Prospecting is Different than Selling
◄Prospecting Tips
• Attitude
• Activity Level
• Expectations
• Commit to Daily Prospecting
• Time Management
• Creative Variety
◄Creating Lists For Prospects
• Introduction
• Power Base
• Sold Customers
• Service Type Calls
• The Unsold
• Who Do You Spend Money With?
• Business Using Your Products
• Competitions Customers
• Orphan Owners
• Lost or Unsold Customers of the Company
◄Warm Calls
• Your Power Base
• The Power Base Call
• Service Customers
• Calling the Service Customer
• Reactivating Sold Customers – Past Customers You Sold
• The Call to Sold Customers
• Converting the Unsold
• The Call to the Unsold
• People You Do Business With
Sales Page: https://anon.to/KodkaH
16 other products in the same category: